Core Complex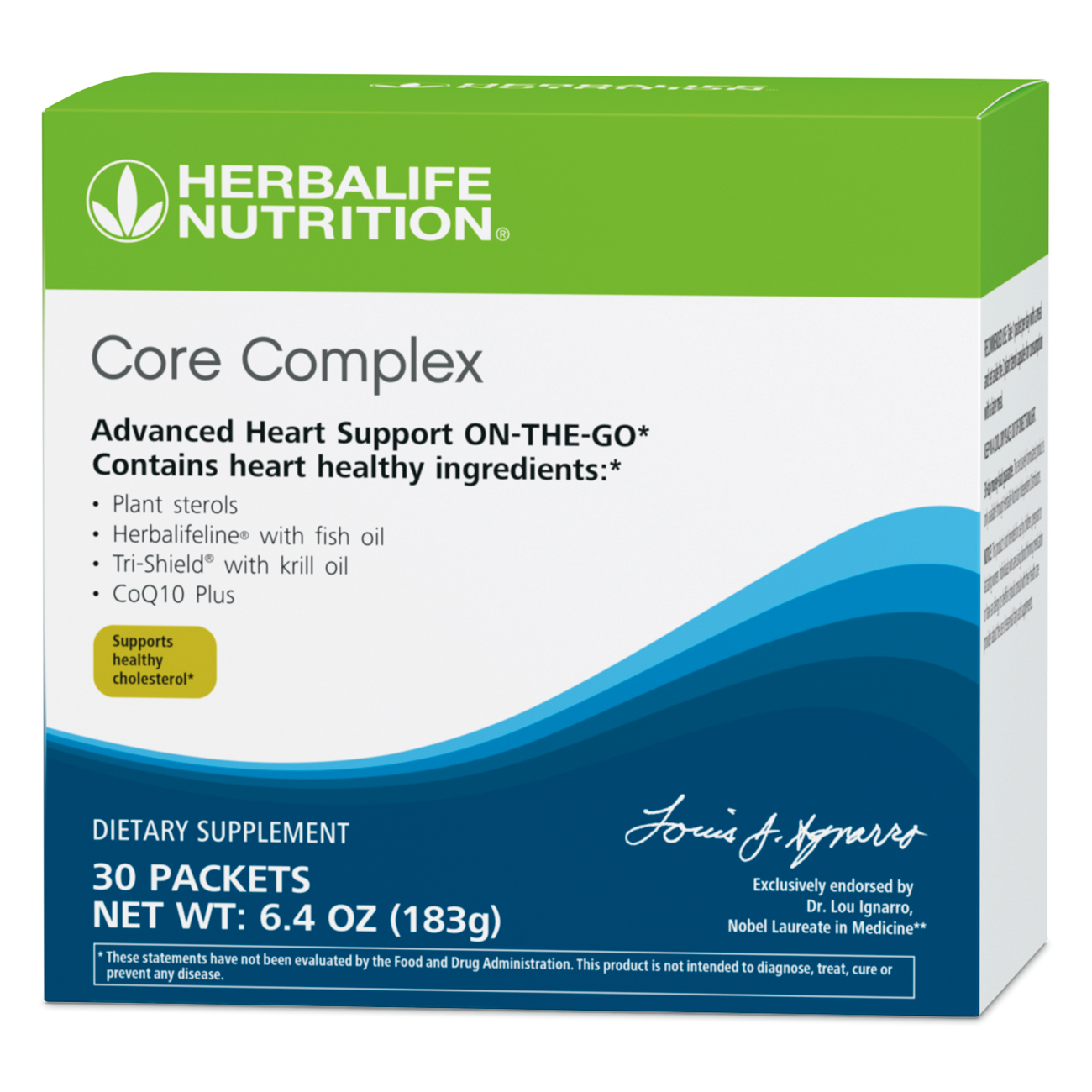 SKU 1096
Price $153.50
Overview
Target four key aspects of your cardiovascular health: cholesterol, triglycerides, homocysteine and oxidative stress.* Core Complex is a dietary supplement that includes Herbalifeline®, Tri-Shield®, CoQ10 Plus and plant sterol softgels in convenient daily serving size packets.
Key Benefits
Herbalifeline® is a specially formulated blend of highly refined marine lipids with high-quality omega-3 fatty acids, eicosapentaenoic acid (EPA) and docosahexaenoic acid (DHA), which help maintain cholesterol and triglyceride levels already within a normal range.* Taking DHA regularly also helps to support normal brain function and vision.*
 Tri-Shield® is a proprietary blend formulated with omega-3 fatty acids from Neptune Krill Oil (NKO®†) to support cardiovascular health.*
CoQ10 Plus is specially formulated with coenzyme Q10 and Vitamin D. CoQ10 provides energy to heart cells, supports the heart muscle and protect cells from damaging effects caused by oxidative stress.*
Plant sterols help support healthy cholesterol levels already within a normal range.* B vitamins help maintain healthy homocysteine levels that are already within a normal range.*
Usage
Take one packet per day with a meal and set aside two plant sterol softgels for consumption with a later meal
Each packet contains two brown softgels of plant sterols (only available in Core Complex) and B vitamins, one nectarine-colored CoQ10 Plus softgel, one burgundy Tri-Shield® softgel with Neptune Krill Oil (NKO®†), and two gold Herbalifeline® fish oil softgels with omega-3 fatty acids
*These statements have not been evaluated by the Food and Drug Administration. This product is not intended to diagnose, treat, cure or prevent any disease.
†NKO® is a registered trademark of Neptune Technologies and Bioressources, Inc., Quebec, Canada.