Herbalife24® Trial Pack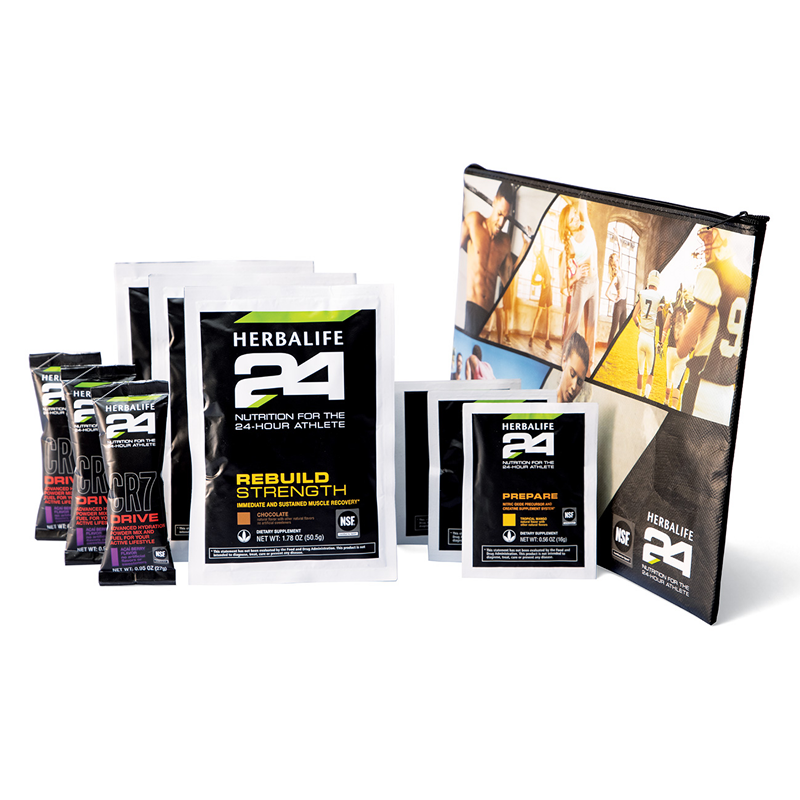 SKU G761
Price $18.20
Overview
Enjoy the benefits of everyday sports nutrition with the Herbalife24® Trial Pack.
Featuring on-the-go packets of Prepare, CR7 Drive, and Rebuild Strength, now you can experience the results of Herbalife24 wherever your active life takes you.
Contains three packets each of Prepare, Drive, and Rebuild Strength to boost your performance and results before, during or after your workout. Use as directed.
Key Benefits
Herbalife24® Prepare
Precursor system of L-arginine, L-citrulline and ornithine AKG supports Nitric Oxide production*
2.1 g of creatine per serving to support muscle strength*
100 mg of caffeine to help maintain focus and performance*
L-arginine supports healthy blood flow*
Herbalife24® CR7 Drive
Enhances hydration with 320 mg of vital electrolytes lost during exercise
Brain-fueling glucose helps promote quick and accurate game-time decision-making
Easy-to-digest carbohydrate blend helps fuel muscles and sustain energy levels
Herbalife24® Rebuild Strength
24 g of whey and casein proteins per serving create a rapid and sustained protein-building state*
Tri-core protein-amino blend of free amino acids, whey and casein proteins helps rebuild muscle and speed recovery*
L-glutamine supports immune function and promotes muscle repair*
Branched-chain amino acids support muscle growth*
NSF® Certified for Sport®†
Tested – Clean of athletic-banned substances
Verified – Meets label claims and contaminant test criteria
Audited – Manufacturing facility is GMP-compliant
†Certified for Sport® is a registered trademark of NSF International.
*These statements have not been evaluated by the Food and Drug Administration. This product is not intended to diagnose, treat, cure or prevent any disease.