Enrichual Hemp Facial Serum: 250 mg cannabinoids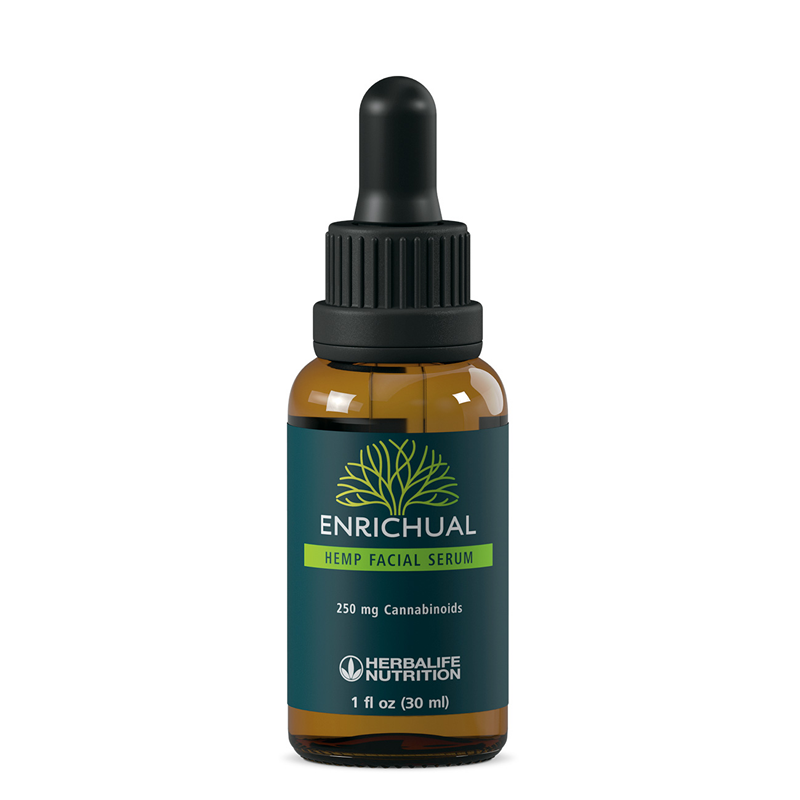 SKU 136K
Price $75.50
Overview
Enrich your skin's natural radiance with this luxurious Hemp Facial Serum. Made with a harmonious blend of hydrating oils, skin-boosting botanicals, and broad-spectrum cannabinoids, this plant-based elixir is a powerful addition to your daily skincare routine and gently works to nurture and restore skin to its youthful glow.
Here at Herbalife Nutrition, we've been harnessing the power of plants for over 40 years, and we're excited to share the latest addition to our ever-growing portfolio of plant-based products. Enrichual, our new line of nurturing self-care products, is formulated with high-quality, broad-spectrum hemp extract and infused with rich botanicals and essential oils to nurture and restore your skin.
Hemp is the hero of this new line for good reason. This "wonder plant" is rich in phytonutrients, which consist of protective antioxidants that fortify the skin. It also produces cannabinoids, or CBD, which is best known for its calming, soothing and antioxidant properties.
Key Benefits
Hydrating and Moisturizing: lightweight oils including squalane, argan and hemp seed to deeply moisturize, smooth, and rejuvenate skin
Smooth, Soft, Radiant Skin: scientifically formulated with bakuchiol, safflower and meadowfoam seed oils to help minimize the appearance of fine lines and wrinkles, while being gentle on skin
Protective Antioxidants: enriched with Vitamins C and E to help neutralize skin-damaging free-radicals and restore youthful radiance
Fast-absorbing facial serum with 250 mg of broad-spectrum hemp cannabinoids per bottle
Lab-tested for long-lasting moisturization
Dermatologist tested for safety
No added parabens or sulfates
Not tested on animals
Usage
For best results, apply 8 drops of the serum with your fingertips onto your face and neck after cleansing and toning. Lightly tap and smooth the serum out. Use morning and night. Adjust usage for desired skin feel.
Avoid pulling or rubbing the skin too hard. Let the product absorb on its own before applying your moisturizer with SPF.