Formula 1 Select: Natural Vanilla flavor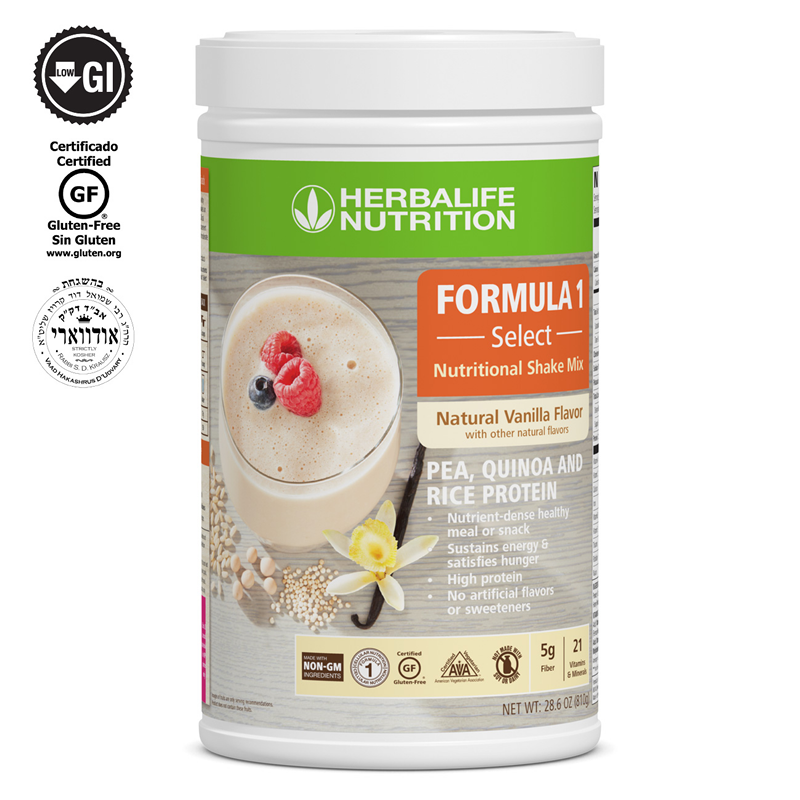 SKU 1626
Price $66.95
Overview
Get the essential nutrition you need to thrive with Formula 1 Select, a naturally wholesome shake with a delicious vanilla flavor. Specially formulated with a plant-based blend of pea, quinoa and rice proteins and crafted to meet your evolving nutritional needs, Formula 1 Select contains only high-quality, non-GM ingredients to nourish your body.
Protein is vital to a healthy diet, as it's one of the essential building blocks for many cellular components in your body. One serving of Formula 1 Select provides 10 g of plant-based protein. Clinical studies have shown that daily usage of meal replacement shakes is effective for managing weight, along with moderate exercise.*



Key Benefits
10 g of a high-quality, easily digestible protein blend (pea, rice, quinoa) to help sustain energy and satisfy hunger
5 g of fiber
21 vitamins and minerals
6 g sugar
Made with Non-GM ingredients‡
No artificial flavors or sweeteners‡
Gluten-free certified
Vegetarian certified
Kosher certified
Low-GI†
Suitable for diabetics‡§
Not made with soy and dairy
Usage
Gently shake the canister prior to each use, as contents may settle
Blend or stir 2 rounded scoops (27 g) with 8 fl. oz. of water or your favorite protein beverage and enjoy!
Add 2 scoops (one serving) of Protein Drink Mix Select to your Formula 1 Select Healthy Meal Nutritional Shake and blend or stir with 8 fl. oz. of water to boost your protein intake to 25 g per serving
Create your own Formula 1 recipes by mixing with fresh fruit and ice
Directions for kids: Mix 1 scoop (12.5 g) with 8 fl. oz. of water for a nutritious snack. This product is not intended to be used for weight-management for kids, or for consumption by kids under 4 years old.
Herbalife Nutrition also recommends using with Formula 2 Multivitamin Complex and Formula 3 Cell Activator®to complete the Herbalife Nutrition® Core Cellular Nutrition program
*Based upon published studies of non-Herbalife Nutrition products.
†On the basis of laboratory tests of the formula for Glycemic Index (GI) value, this is a low-GI food.
‡Herbalife Nutrition designation
§Herbalife Nutrition products do not treat diabetes, but diabetics can use them.