Enrichual Hemp Relief Balm: 1000 mg cannabinoids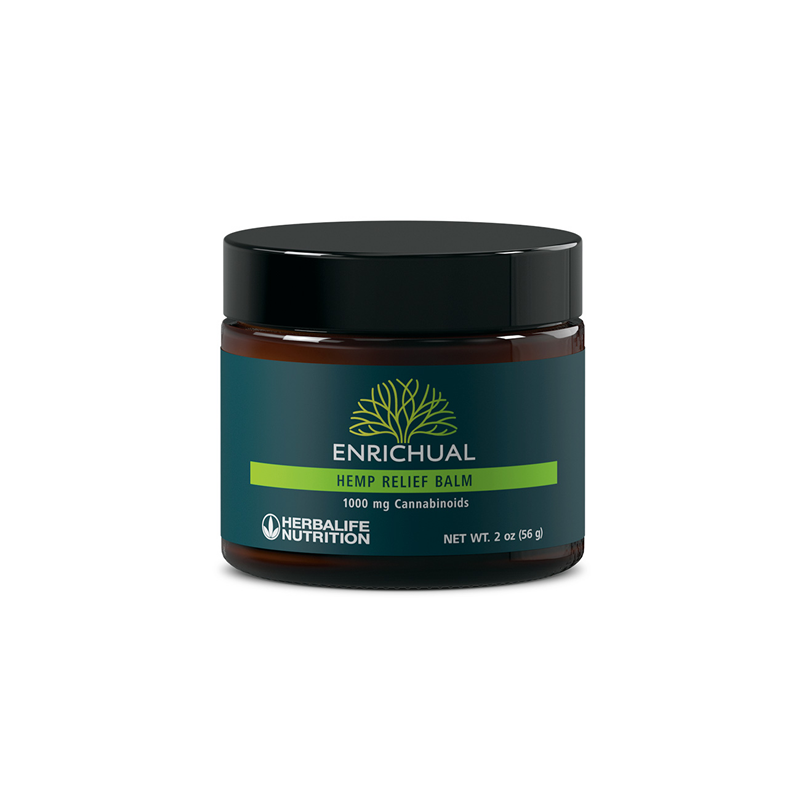 SKU 137K
Price $81.75
Overview
Ease your body and mind with this instantly cooling and deeply moisturizing Hemp Relief Balm that's formulated with plant-derived ingredients, including broad-spectrum cannabinoids, menthol and essential oils. Unlike most hemp-based balms, which can be waxy and oily, this lightweight balm is non-greasy and fast-absorbing. Hemp Relief Balm is loaded with nurturing ingredients like shea butter, hemp seed, jojoba, safflower and coconut oil to leave dry skin soft and smooth.
Here at Herbalife Nutrition, we've been harnessing the power of plants for over 40 years, and we're excited to share the latest addition to our ever-growing portfolio of plant-based products. Enrichual, our new line of nurturing self-care products, is formulated with high-quality, broad-spectrum hemp extract and infused with rich botanicals and essential oils to nurture and restore your skin.
Hemp is the hero of this new line for good reason. This "wonder plant" is rich in phytonutrients, which consist of protective antioxidants that fortify the skin. It also produces cannabinoids, or CBD, which is best known for its calming, soothing and antioxidant properties.
Key Benefits
Calming and Relaxing: spa scents from essential oils lavender, eucalyptus, frankincense and geranium
Instantly Soothing: cooling touch of menthol and camphor to soothe troubled areas
Moisturizing and Nurturing: harmonious oils, including shea butter, jojoba and hemp seed oil
1,000 mg broad-spectrum hemp cannabinoids per jar
Lab-tested for long-lasting moisturization
Dermatologist tested for safety
No added parabens or sulfates
Not tested on animals
Usage
Gently massage into skin areas in need of relief, or dry areas such as back of hands, elbows and knees. Apply to neck as a nighttime or post-workout relaxation ritual. Reapply as needed..